Projects
600 tph Granite Crushing Plant in Ghana

Project Name: 600 tph Granite Crush...
300 tph Basalt Crusher Plant in Kenya

Project Name: 300tph Basalt Crusher...
The Hammer of Impact Crusher Plays an Important Role in the Crushing Process
Date: 10-15-2015 From: Fote Machinery Author: admin
Impact crusher is a new type of efficient crushing equipment. It possesses simple structure, large crushing ratio, strong production capacity, low energy consumption, uniform product size and selective crushing effect, so it is widely used. Its hammer head is the main working part and plays an important role in the crushing process.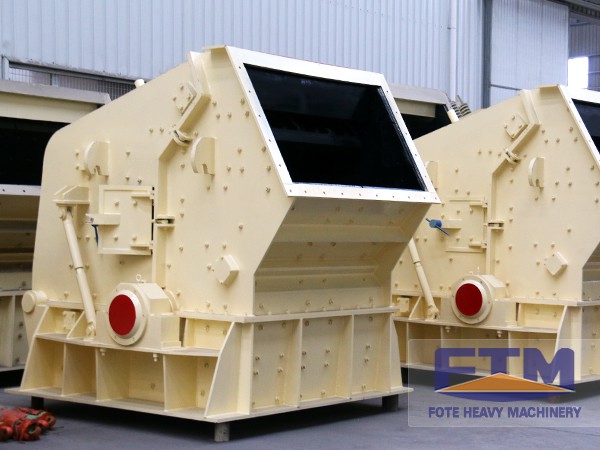 The function of the hammer.
When running, impact crusher takes advantage of the plate hammers on rotors which are rotating at a high speed to have a high-speed impact on the materials into the crushing cavity, and smash the part of materials rebound to the plate hammer. The process mainly relies on the hammers to achieve the preliminary crushing of materials.
The selection of hammer material.
The material of hammer has a big influence on impact crusher's working efficiency. It is also an important factor determining crusher's service life. So when selecting materials, material's wear resistance must be taken seriously enough. The content of 42 CrMo shouldn't be too high in the selected alloy steel. Because the hammer head is easy to wear, so we must choose such materials with high wear resistance.
Methods to improve the hammer.
For the sake of improving equipment's operation efficiency, we have carried out a succession of improvement on hammers. Now the hammer head of our impact crusher is made of high manganese steel-- ZGMn13. After being improved, the top of each hammer is inlaid three pieces of tungsten-cobalt alloy-- YG6, whose specifications are 80 mm, 20mm and 40mm respectively, and between them there exists a 20-degree angle or so. Tungsten cobalt alloy YG6 has high hardness and good abrasion resistance, which is able to improve hammer's wear resistance greatly.