Projects
600 tph Granite Crushing Plant in Ghana

Project Name: 600 tph Granite Crush...
300 tph Basalt Crusher Plant in Kenya

Project Name: 300tph Basalt Crusher...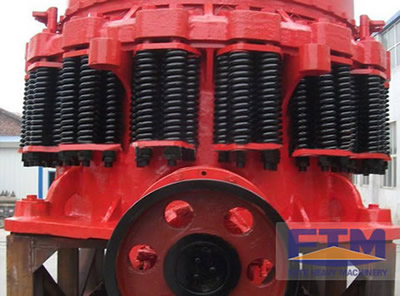 Spring Stone Cone Crusher
Feeding Size: 65-300mm
Discharging Size: 3-60mm
Processing Capacity: 12-1000TPH
Get a Quote
Spring Stone Cone Crusher Introduction
Fote Machinery is a professional cone crusher manufacturer of China. Our products cover multiple series and models, including single cylinder hydraulic cone crusher, multi-cylinder hydraulic cone crusher, spring stone cone crusher and Symons cone crusher and etc. Spring stone cone crusher is appropriate for crushing materials with medium-above hardness and has wide applications in metal mines, metallurgical industry, chemical industry, construction industry, cement and sand industry, etc. Spring stone cone crusher has a good performance in iron ore, copper ore, lime stone, quartz, granite, basalt, diabase, and so forth.
Spring stone cone crusher is divided into standard type and short-head type. Generally speaking, the feeding size of the standard type is large, so is the discharging size. The short-head type has a sharper crushing cone and smaller feeding size, beneficial to producing fine-graded materials. Therefore, the standard type is usually used in primary and secondary crushing, and the short-head type in secondary and fine crushing. Moreover, when spring stone cone crusher coordinates with jaw crusher, it can act as the two-stage, three-stage and four-stage crusher.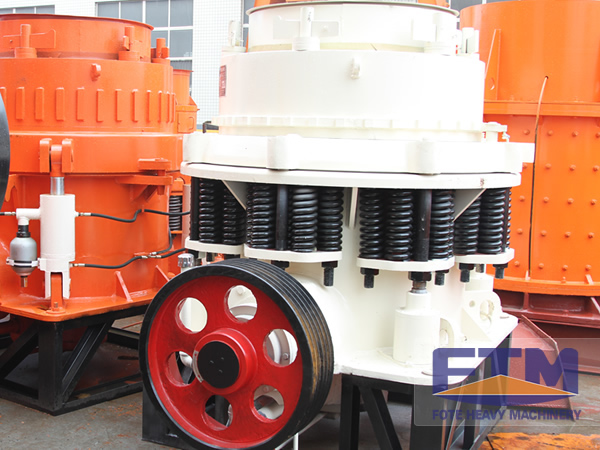 Spring Stone Cone Crusher Features
PYZ 1750 cone crusher is a piece of upgraded crusher on the base of PYZ 900 cone crusher. As a professional Chinese PYZ 1750 cone crusher manufacturer, our PYZ 1750 spring stone cone crusher has the following advantages.
1. Excellent manufacturing materials and reasonable structure design, conductive to a long using life.
2. Uniform crushing granularity, lessening the cycling load.
3. The moving cone rotating continuously, crushing and discharging proceeding alternately and continuously along the working surface, contributing to a higher productivity; Setting up a parallel belt between the moving cone and fixed cone, ensuring the final product an even size.
4. In medium and large sized equipment, adopting hydraulic cavity cleaning system, shortening the downtime.
5. Multiple cavity types; Customers can choose different cavities according to specific production requirements.
6. Employing grease sealing, to prevent the water supply and drainage system from being jammed and avoid water and oil mingling.
7. Adopting spring insurance system as the overload protection device, getting the foreign body or iron across the crushing cavity without any damages.
8. Easy to disassemble and maintain, greatly decreasing the downtime for maintenance.
The constant pursuit of perfection is customer's demand, as well as the direction of efforts for Fote Machinery. In addition, we offer free quotation for all kinds of spring cone crusher price. Please contact us to know more about our spring cone crusher price.