Projects
600 tph Granite Crushing Plant in Ghana

Project Name: 600 tph Granite Crush...
300 tph Basalt Crusher Plant in Kenya

Project Name: 300tph Basalt Crusher...
The Configuration of China Cone Crushing Plant for Hard Materials
Date: 09-16-2015 From: Fote Machinery Author: admin
China cone crushing plant for hard materials is developed by Henan Fote Heavy Machinery Co., ltd. This crushing plant is dedicated for processing hard and medium-hard materials. In terms of production and technique index, China cone crushing plant for hard materials has great competitiveness in the domestic market.
The main equipment configuration of China cone crushing plant for hard materials: vibration feeder, jaw crusher, cone type crusher, vibration screen, conveyor belt and electric control cabinet. The whole production line forms a complete production system.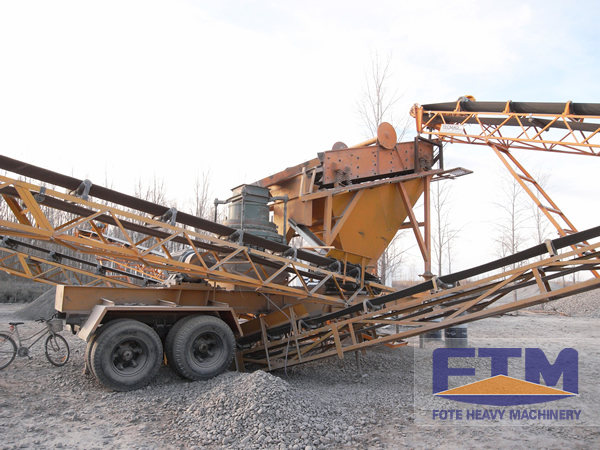 China cone crushing plant is capable of crushing all kinds of non-inflammable and non-explosive materials whose Mohs hardness is less than 9 and humidity less than 6. It is particularly suitable for crushing various hard and medium-hard rocks and ores under 350 Mpa, such as iron ore, basalt, granite, limestone, cobblestone, etc., widely used in mining, cement, metallurgy, sand making, highway and many other fields.
The economic benefit analysis of China cone crushing plant for hard materials:
1. This production line's daily working time is 12 hours. Its daily output can reach 1000 to 2500 tons and annual output is about 800000 tons. Big output and good economic benefit.
2. This cone crushing production line can produce a variety of discharging granularity, meeting different production requirements.
3. This production line employs high-performance cone crusher as its secondary and fine crushing equipment which has strong crushing force, big crushing ratio, excellent product quality and simple operation and maintenance
4. In the crushing operations of hard and medium-hard materials, FTM cone type crusher is made of superhard materials, with high wear and impact resistance, long service life and low maintenance costs.